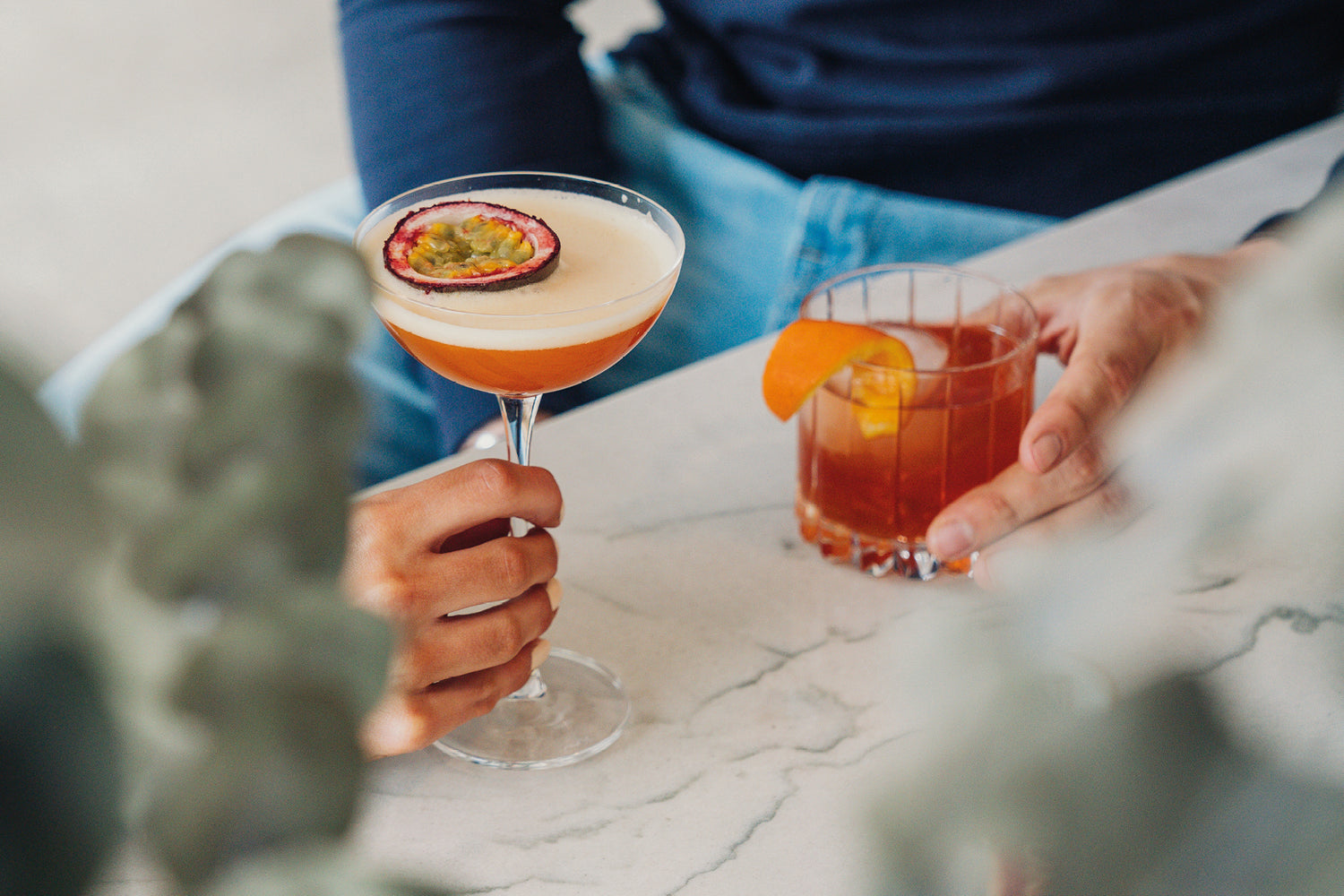 Our shop
Our award-winning drinks are all designed to be served just like they would in your favourite cocktail bar. That means you'll be shaking and stirring before finishing off your cocktail with its included garnish. They are all full strength, and we only use the very best spirits, liqueurs and juices.
Why not add the perfect glassware and one of our shakers to your order for an authentic cocktail bar experience.
Taste

Take your pick. From fruity and refreshing to bitter and boozy.

For fans of

Bespoke gifts, a bit of everything, trying new things.

Taste

A bit of everything! From fruity and refreshing to bitter and boozy, something for everyone.

For fans of

Indecision, shortcuts to perfect parties, ordering everything off the menu.

Taste

A celebration of flavour with a fruity and sharp passion fruit kick, a real modern classic.

For fans of

Strawberry Daiquiri, Cosmopolitan, keeping it glamorous whether going out or staying in.

Can't decide?

With our mix and match boxes you can select any combination from our range.

Build a box

Taste

Bourbon and whisky lightly sweetened and aromatised with bitters. A perfectly balanced classic.

For fans of

Keeping it classy, sitting by an open fire, pretending to read a weighty hardback.

Taste

A rich and silky cocktail with a hint of vanilla. Made with real coffee.

For fans of

Coffee (obviously), but particularly affogato. Getting the party started and late nights.

Taste

A sophisticated yet simple Italian classic. Pairing sweet and bitter notes with a hint of orange.

For fans of

Exploring flavour profiles, escapes to Tuscan villas, good conversation while the sun sets.

Taste

Fresh strawberries and lime make up this bright summer cocktail. Sweet and dangerously drinkable.

For fans of

Passion Fruit Martini, Cosmopolitan, picnics, making the most of strawberry season.

Taste

A collection of our bestsellers. A good variety of our cocktails for the indecisive.

For fans of

The perfect cocktail bar selection, trusting our brilliant customers, easy gift-buying.

Taste

The unique flavour of Amaretto with the sharpness of fresh lemons; uniquely refreshing.

For fans of

Chambord Bramble, Cosmopolitan, evening drinks on buzzing Italian piazzas.

Taste

A blend of cranberry and lime. Delicately balancing sweet and zesty notes.

For fans of

Lychee Martini, Passion Fruit Martini, Sex and the City-style soireés.

Taste

A refreshingly crisp combination of mint and lime, a timeless classic.

For fans of

Elderflower Collins, Kumquat Margarita, closing your eyes and imagining you're on the beach.

Taste

A collection of our five award-winners, nothing but the best.

For fans of

Toasting success, the finer things in life, telling friends about amazing new drinks.